Wondering How to Attract a Lesbian?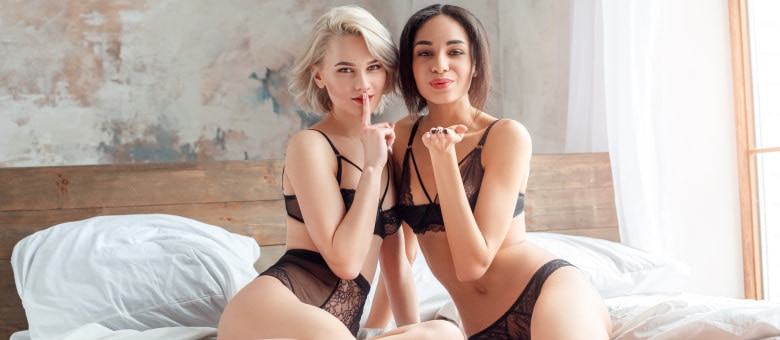 Wondering How to Attract a Lesbian?
There is an opinion that a lesbian can only be liked by being the most similar in appearance to a lesbian. Many lesbians look like boys in appearance: short haircuts, wide pants, and shirts. However, this opinion is wrong. Each lesbian is an ordinary person with her own tastes and preferences, only non-standard orientation. Lesbians, just like heterosexuals, like different partners - fat, thin, with long and short hair, etc. Therefore, the best way out is just to be yourself, not trying to look like someone outwardly. Of course, you need to take care of yourself and be as attractive as possible, but this is natural.
How to Let a Girl Know You're Interested
A beautiful appearance, a flirting look, seductive poses - all this can be applied to lesbians. Sit in front of the lesbian you like, smile at her, try to attract her attention with your eyes. If you interest her, you will notice it. Then you can start communication. It doesn't matter who comes up first - you or she, the main thing is that sincere and interesting communication ensues. During the conversation, let her know that you are interested in her more than just a friend. She will catch your signals, and if she reciprocates, then everything will go like clockwork.
The main advice is to be natural and not be afraid to show your sympathy.
Here, everything is a little more complicated because, for many natural girls, the very idea of having a lesbian relationship causes surprise, extreme rejection, and shock. What to do in a situation when you are a lesbian and want to seduce a straight girl?
Never act directly on the forehead - in most cases, you will be rejected immediately. You will have to work hard and show the girl that she will be much better with a girl than with a guy. After all, a girl understands her feelings and needs much better, is more romantic, soft, tactful, she has many advantages for relationships that are either absent or poorly expressed in many men. You need to look after the girl as romantic as possible. Just let this courtship be modest. So, for example, giving a flower, a box of delicious chocolates, a beautiful poem of your own composition or a cute trinket, etc., is good, and you need to make such gifts regularly as a token of attention. But write on the pavement, "Mira, I love you! Jane." or singing a serenade under the windows is too much. Many will see and hear, this will embarrass the girl, and she will definitely never be yours. Lovely courtship, beautiful gestures, and constant attention - that's what it should be.
How to Hook up With Another Woman
It is important to make friends with a girl. You are a girl, so use it to establish close emotional contact. Listen to her, help with advice, have a heart-to-heart talk, give compliments - she will appreciate and remember! In general, start with this, and only then try to look after it. Together with courtship, you can teach a girl to have close bodily contact with you. Hug her more often, kiss her on the cheek, hold her hand. At the very end, confess your love to her. Maybe. For her, it will be a shock, but since you already have a strong emotional relationship, she will not rudely push you away. You may have to seek reciprocity for a long time, and here it is important to be non-annoying but still purposeful and persistent.
How to Ask a Girl to Fuck
The modern world assumes not only personal but also virtual, correspondence communication, and acquaintance.
Forms of first communication:
Online chat or SMS
Talking on the phone,
Conversation face-to-face,
Communication in the company of mutual friends
In any case, the words and the way they are said are important. In correspondence, the meaning of words is taken. Literally, it is difficult to understand and easily deceived by perceiving written words. With a personal acquaintance, not only verbal but also non-verbal communication takes place. When speaking, people catch the meaning and the intonation, timbre, and speed of speech.
Words are not the only thing that matters in seduction. Girls like the brave, the strong. Non-verbal body signals, gestures, touch, hugs, and kisses evoke mutual desire and attraction between men and women. But how to conquer a woman without touching her.
When you first communicate with a girl, you need to put yourself in order, look neat, take care of oral hygiene. Natural body odor and breath play an important role. If a man smells bad, the woman will not care what he says.
A speech should be unhurried and quiet.
A deep and low voice sounds masculine and sexy.
Anyone will like a universal way - smile at him. A smile paints the face and lends a benevolent tone of speech.
When talking with a girl, you need to look into her eyes. Without eye contact, the eyes cannot be seduced.
Begin communication with a girl in a friendly manner, not intrusive, so as not to frighten her. Try to show her that she is special. You should be courteous and gallant, but at the same time decisive and courageous.